Buy NBOK™ Guide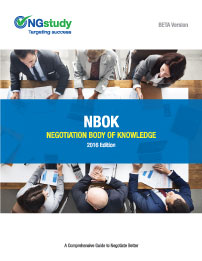 Details
Number of Pages: 340
Date Published: 2016
Subject: A Comprehensive Guide
to Negotiate Better
Publisher: VMEdu, Inc.
Author: NGstudy
---
Description
The NBOK™ Guide is developed by VMEdu, Inc., a global education and certification course provider that has educated over 400,000 students world-wide in more than 3,500 companies. It is the result of a collaborative effort from a large number of experts with extensive experience, knowledge, and insights from a variety of industries and disciplines.
The NBOK™ Guide is a comprehensive Guide that includes Aspects and Processes for preparing and conducting negotiations. It provides a unique process-oriented framework, that when effectively used, leads to successful negotiations.
The NBOK™ Guide was developed as a necessary guide for individuals and organizations to understand and effectively practice negotiation. It can be used by anyone wanting to gain knowledge of the basic principles of negotiation as well as those who want to improve their existing negotiation skills.
---
Free shipping to any place!